About Us

Living Well means attending to both emotional and
physical health. Personal and/or career related concerns
often get in the way of maintaining a healthy and
balanced life.
Live Well Solutions provides professional services designed to help balance life's demands. Live Well Solutions provides customized EAP, Worklife and Wellness Solutions designed to:
Reduce absenteeism
Reduce presenteeism
Improve overall organizational health
Offset or contain increasing healthcare costs
Increase employee loyalty and retention
Lower disability and worker's compensation claims
Educate and train management, supervisors and human resource staff
Live Well Solutions is a customer-driven, solution-focused company whose core goal is to understand our customers' objectives. We work collaboratively with our customers to develop customized programs that provide opportunities for staff and their families to effectively address their concerns, and exceed their expectations.
Live Well Solutions wants to partner with your organization to provide a work place benefit program that will encourage your employees to achieve a well balanced, healthy life. We are proud to offer your organization our experience, industry leadership, and track record of outstanding customer service. We believe every client has a right to quality behavioral healthcare and wellness programs and services.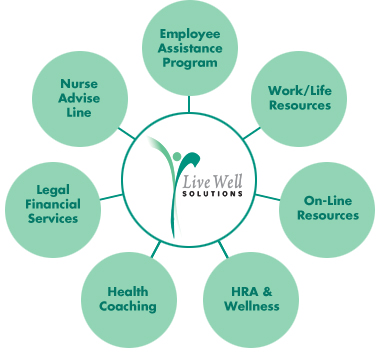 Mission Statement:
Live Well Solutions
provides customized employee benefit
resources that foster
healthy, productive
workplace and home
environments.
Live Well Solutions'
specialty healthcare resources are designed
to reduce healthcare
costs, increase
productivity and
address the behavioral health and holistic
wellness concerns of
those we serve.